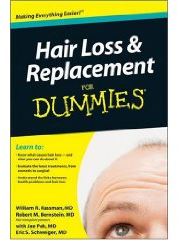 The "For Dummies" series has a reputation for taking complex subjects and making them easier for the reader to understand, especially newbies to a particular subject.
Now, thanks to Coalition members Dr. William Rassman of Los Angeles, CA and Dr. Robert Bernstein of New York, NY, hair loss and hair transplant surgery has been made easier to understand with latest addition to the series, "Hair Loss & Replacement for Dummies".
To buy this book now at a discounted price at Amazon.com, click here.

Unlike stereo instructions, this easy to read manual includes rich simple to comprehend content that both educates and entertains. Content includes tips for caring for your hair, what causes and how to prevent hair loss, and the latest and greatest information on today's advanced non-surgical hair loss treatments and surgical hair restoration. There is also a section dedicated to teaching balding men and women to use additional resources like our highly popular Hair Transplant Network  resource and discussion forum.
This book teaches you how to properly evaluate each option and make an informed decision on the available and future treatments for baldness. For newbies and veterans alike, we highly recommend adding a copy of  the affordable "Hair Loss & Replacement for Dummies" to your information library.   The approximate cost of this valuable book is around $15.
View the official Press Release
Bill
Associate Publisher/Editor
Technorati Tags: For Dummies, hair loss, hair transplant, Hair Loss & Replacement for Dummies, caring for your hair, hair loss treatments, hair restoration, balding, baldness