Hi, I've been using minoxidil for approximately two years and was quite happy with the results until I went two weeks without using it. After that I noticed a lot of hair loss! I'm still continuing to use it but now wondering if I've completely wasted my time and money for the past two years as I've heard you don't regrow hair when you've had a break in the routine. Is that true?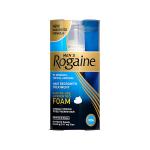 I would not say that you've completely wasted your time. However, it is likely that some of the hair that shed will not regrow. Even so, I would venture to guess that restarting Rogaine (minoxidil) has continued to preserve hairs that would have been lost otherwise. It's always the best option to continue use.
Unfortunately, there is really no way to know for sure. Only time will tell how much hair growth will return.
—-
David (TakingThePlunge)
Editorial Assistant and Forum Co-Moderator for the Hair Transplant Network, the Coalition Hair Loss Learning Center, and the Hair Loss Q & A Blog.
To share ideas with other hair loss sufferers visit the hair loss forum and social community
Get Proven Treatments at the Best Prices by visiting our new online hair loss treatment shop.
Technorati Tags: minoxidil, hair loss, regrow hair, Rogaine, hair growth