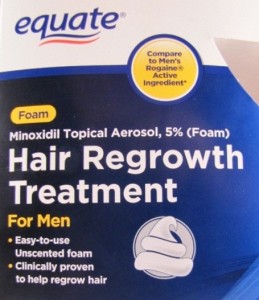 Hair loss suffering men and women have all been waiting for it!  On March 1, 2012, Perrigo Company, the largest manufacturer of over-the-counter pharmaceuticals in the United States, announced the launch of its long-awaited topical foam hair loss treatment. This new generic version of Rogaine Foam (5% minoxidil) is to be marketed under a variety of store brands such as Walmart's Equate line.
Since its debut in 2006, Rogaine Foam has been a popular alternative to liquid minoxidil for those seeking a solution to thinning hair without the greasy feel and scalp irritation often associated with the liquid. However, with no generic alternative available, some balding men and women found that the significantly higher cost of Rogaine Foam, compared to generic liquids like Kirkland 5% Minoxidil far outweighed the benefits.
To learn more, visit "Generic Rogaine Foam: It's Finallly Here" on Hub Pages.
If you've been waiting for an affordable alternative to liquid minoxidil then this may be just what the doctor ordered. Topical foam hair growth formulas offer the following benefits:
Faster drying
Less scalp irritation
Better absorption
Non-greasy
Ingredients
Active ingredient: minoxidil 5%
Inactive ingredients: butane, butylated hydroxytoluene, cetyl alcohol, citric acid, dehydrated alcohol, isobutane, lactic acid, polysorbate 60, propane, purified water, stearyl alcohol.
To discuss this new and exciting hair loss treatment on our discussion forum, visit "Generic Rogaine Foam is Now Available in Stores".
To purchase Rogaine Foam and other credible hair loss treatments at discounted prices, visit our online hair loss product shop.
—-
David (TakingThePlunge)
Editorial Assistant and Forum Co-Moderator for the Hair Transplant Network, the Coalition Hair Loss Learning Center, and the Hair Loss Q & A Blog.
To share ideas with other hair loss sufferers visit the hair loss forum and social community
Get Proven Treatments at the Best Prices by visiting our new online hair loss treatmentshop.
Watch hair transplant videos on YouTube
Follow us on: Facebook | Twitter | YouTube
Technorati Tags: Hair loss, hair loss, Rogaine Foam, minoxidil, Rogaine, thinning hair, balding, hair growth, hair loss treatment