This question comes from a member of our hair loss social community and discussion forums: 
I'm interested in hair transplant surgery. When I first started my research, I had no idea two separate methods of the procedure existed. I visit online hair loss discussion forums, and see a lot of people arguing about which technique is "better" – follicular unit extraction (FUE) or strip surgery (follicular unit strip surgery). Now, I'm confused; which procedure is better for me?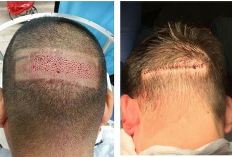 The "fue vs strip" debate does stir up quite a bit of controversy online. Frankly, I think it comes down to two points: accepting more consistent growth yield with strip surgery, but also accepting the linear strip scar; or forgoing the traditional strip scar in favor of less consistent growth.
So, which procedure is "better" for you? Which one should you chose?
In my opinion, there are patients who are better suited for strip procedures and those better suited for FUE. These strip patients MUST understand the reality of the linear scar. But if they do, I think they will simply receive more "bang for their buck" with strip.
The best way to figure this out is by consulting with trusted hair restoration physicians. Discuss FUE versus strip thoroughly with several of these doctors. They should be very comfortable with both methods. Share your goals and what you see as the "pros and cons" of each procedure. Lastly, come up with a solid – and personal – answer to this question: would I rather shoot for increased yield in one pass and deal with a variable linear scar? Or, is the scar a "deal breaker" and I'd prefer more variable yields with less visible scarring?
The true solution to this issue will be a method with strip yields and FUE-level scarring. Until that point, however, I think the above advice holds true.
_____________
Blake Bloxham – formerly "Future_HT_Doc"
Editorial Assistant and Forum Co-Moderator for the Hair Transplant Network, the Hair Loss Learning
Center, the Hair Loss Q&A Blog, and the Hair Restoration Forum
Follow our community on Twitter
Watch hair transplant videos on YouTube
Technorati Tags: hair loss, hair transplant, follicular unit extraction, FUE, strip surgery, follicular unit strip surgery, strip scar, hair restoration physicians