This question comes from a member of our Hair Loss Social Community and Discussion Forums:
After doing some research, I'm interested in a follicular unit extraction hair transplant procedure. However, from what I can gather, as follicular unit extraction (FUE) cases continue becoming larger and larger, hair restoration physicians are beginning to extract follicular unit grafts from outside the universal safe zone.  Is this safe? Are these hairs susceptible to future hair loss?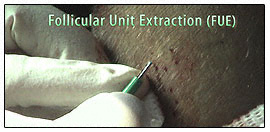 Altogether, it's not preferable to remove follicular units (either via follicular unit transplantation or follicular unit extraction) from outside the universal safe zone because these hairs aren't as resistant to dihydrotestosterone (DHT) and genetic hair loss.
In certain instances, hair restoration physicians state that they are able to analyze the hair near the universal zone (but technically still outside) and determine whether or not it is suitable for extraction. For example, in a Norwood III patient looking to augment the frontal hairline with no indications of vertex/crown involvement, the physician may analyze the regions next to the universal safe zone, determine that the hair is unaffected by miniaturization, and use both 'safe' hairs and 'other' hairs during the extraction (in order to optimize the yield).
Technically, it's still not as proven and effective as extracting solely in the safe zone because the hairs are not as resistant to DHT and can fall out as the balding progresses. Although it is sometimes seen in larger FUE sessions, extraction from outside the universal safe zone still remains controversial and is usually not viewed as an optimal technique.
_______________
Blake Bloxham – formerly "Future_HT_Doc"
Editorial Assistant and Forum Co-Moderator for the Hair Transplant Network, the Hair Loss Learning Center, the Hair Loss Q&A Blog, and the Hair Restoration Forum
Follow our community on Twitter
Watch hair transplant videos on YouTube
Get Proven Hair Loss Treatments at the Best Prices by visiting our new Online Hair Loss Product Store
Technorati Tags: Hair Loss, hair transplant, follicular unit extraction, FUE, hair restoration, follicular unit grafts, universal safe zone, dihydrotestosterone, DHT, hair restoration physicians