In this article, recommended hair transplant surgeon Dr. Parsa Mohebi shares his expert advice regarding the causes and treatments of female hair loss.

Hair loss in women can be a devastating condition. Most women notice some degrees of hair loss or thinning hair in their 50s or 60s.  However, patterned hair loss in women can happen at any age and it could be for a variety of causes. Typical patterned hair loss in women usually presents differently than typical patterned hair loss in men. Unlike male patterned hair loss which may present with receding from the forehead or expanding balding spot on the crown, patterned hair loss in women tends to present as diffuse thinning on the front and top of the head.
The treatment options for women with hair loss may be more limited than men who have male patterned hair loss.  Only a certain group of women with hair loss can benefit from surgical hair restoration. Many women with hair loss need specific lab work among other diagnostics before finalizing their treatment planning.  Many doctors who are not familiar with intricacies of female hair loss treat every women who complains of hair loss with Rogaine (minoxidil) or other hair loss medications before properly examining them and without coming up with a proper diagnosis.
We at US Hair Restoration Centers have developed an algorithm for proper management of female hair loss that could be followed by any practitioner to address the particular complexities of female hair loss diagnosis and treatment.
Five Step Management of Female Hair Loss
Step 1: History
The most important step in a hair restoration doctor's approach to female hair loss should always be obtaining an accurate history from the patient which includes:
family history of hair loss
other medical problems previous and present
medications used in past and current medications
Without a strong family history for female hair loss it is less likely that a woman is suffering from typical female pattern hair loss. A physician would pursue evaluation and diagnostics to learn the causes for the hair loss the patient is experiencing.
There are several medications that are known for their effect in hair loss in men and women. Hair loss as a side effect of a medication is one of the rare causes of hair restoration in U.S. and other causes of hair loss should be evaluated first.
Step 2: Examination (Macro and Microscopic evaluation)
A hair specialist should examine the scalp of the patient completely for any abnormal pattern. A woman with a receding hairline or significant thinning in front with preserved hair on top and back should be evaluated for other reasons for male pattern balding such as elevated testosterone and DHT levels.
Microscopic examination of the scalp and hair (Miniaturization study) should always be an important part of every hair loss evaluation.
It is known that hair shafts can change size and become thin before they fall out. In fact fineness of more than about twenty percent of hair shafts cannot be explained by simple recycling of hair and the patients should be evaluated for other causes. The next stage of female hair loss evaluation is the mapping of scalp hair miniaturization with a microscope. Miniaturization study should also be used to predict the future pattern of hair loss.
Step 3: Laboratory Work
Many women require a lab work to exclude other medical conditions that may cause hair loss as one of their symptoms.  Conducting lab work might be needed in most women with atypical hair loss without a family history of patterned hair loss.
Lab work for female hair loss includes some simple tests such as a CBC and may include more specific test such as an Iron panel, hormonal check such as evaluations for total and free testosterone, DHEA-sulfate, Prolactin, T3, T4, TSH and prolactin.  More tests for rheumatologic diseases might be necessary too.
Step 4: Proper Diagnosis
Women hair loss management is directly related to proper diagnosis of hair loss condition. If we diagnose any medical condition, we can treat that and that may lead to recovery of hair loss. In cases that we do not find any other medical condition for female hair loss which is most of the cases, we treat female hair loss as a patterned hair loss without other systemic treatments.
Step 5: Specific Treatment
Generalized diffused balding or thinning is the most common type of hair loss in women. These women have significant thinning or miniaturization of hair throughout scalp. Some of these patients may have high levels of miniaturization.  Those patients are good candidates for medical treatment with minoxidil. If the baldness is matured and there is less that 20% miniaturization in the scalp hair; these women may not respond to the medical treatment.
There are some women that could be considered for hair transplant surgery.  Generally women with local hair loss with loss of hair in one area (usually the front) and preserving the donor hair on the permanent zone are great candidates for hair transplantation. If the patient is selected properly, some women with female hair loss could be great candidates assuming that the other three steps described above if followed.
A doctor should set the expectations realistically so the patients have a good understanding of what should be expected after a hair transplant.   It is important that the patient understand that the response to treatment is different in men and women.
Table 1: Association of each diagnosis of female patterned hair loss with its treatment options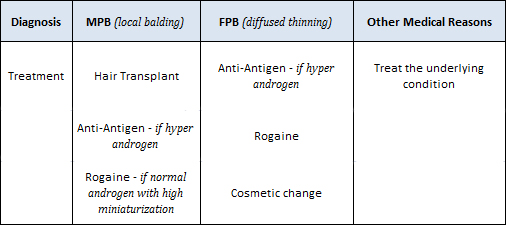 A physician treating female hair loss should be familiar with the basics of cosmetics that could be used to enhance the appearance of hair in women who have patterned hair loss. A through conversation about different products and shampoos can save the patient a lot of time and money since there are many myths regarding hair loss shampoos, conditioners, colors, vitamins and so on.
Using cosmetic product should not be discussed only at hair salons and a knowledgeable hair specialist should be able to guide the patients to how to hairstyle for a fuller look.  Changing hair color and using microfibers such as Toppik might be great solutions for many patients and needs to be discussed.
In conclusion, it is crucial for a doctor to have a strategy in managing hair loss in women.  Medical hair loss treatments might be necessary to regrow hair or to prevent further hair loss in many women with hair loss.  It is important for women who are selected for hair transplantation to understand that hair transplant may not be able to give them the full head of head they once had, but it may minimize the appearance of balding and help them have more options to style their hair.
Parsa Mohebi, MD
—
Technorati Tags: Hair loss, thinning hair, balding, hair restoration, female hair loss, Rogaine, minoxidil, female pattern hair loss, male pattern balding, DHT, hair transplant, Toppik, hair loss treatments, regrow hair, hair transplantation