Propecia Hair Loss Treatment: Is it Safe?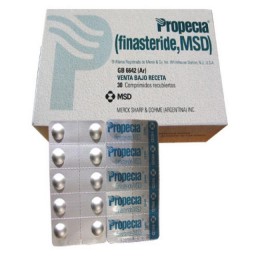 Is Propecia (finasteride) still a safe drug to treat hair loss? Recently, The U.S. Food and Drug Administration (FDA) announced that it is requiring changes to the labels of drugs containing the active ingredient finasteride to include an expanded list of disorders and the risk of permanent sexual side effects. This ruling affects both the hair loss treatment Propecia (1mg finasteride) and the benign prostatic hyperplasia (BPH) treatment Proscar (5mg finasteride).
Since receiving FDA approval for the treatment of male pattern baldness (MPB) in 1997, Merck & Co's Propecia has enjoyed a reputation as the most effective non-surgical drug for treating the effects of thinning hair due to hereditary causes, followed closely by Rogaine (minoxidil). At the same time, persistent rumors of permanent sexual side effects associated with finasteride spurred heated debates among Propecia users and caused some men to avoid the popular hair growth drug altogether.
It's long been known that taking finasteride may result in a variety of sexual side effects However, based on the original clinical trials, Merck had previously maintained that these conditions were temporary and would resolve themselves upon discontinuation of the drug.
In 2011 the warning label was first updated to include the possibility of persistent erectile dysfunction while the latest revisions have expanded the list of potential complications to include ongoing libido concerns, ejaculation problems, and orgasm disorders after discontinuation of the drug and male infertility and/or poor semen quality that normalized or improved after drug discontinuation.
The FDA still maintains that only about 2% of men will experience the above reported side effects from Propecia and, in the majority of these cases, side effects are temporary and will subside once the drug is stopped. Propecia (finasteride) also remains the most effective drug treatment for male pattern balding along with Rogaine. However, for those men who've experienced side effects and/or refuse to take it, there are a few credible natural hair loss treatments available. However, none of these have been scientifically proven effective in the treatment of genetic baldness.
Bill Seemiller – Managing Publisher of the Hair Transplant Network, the Coalition Hair Loss Learning Center, and the Hair Loss Q & A Blog. To share ideas with other hair loss sufferers visit the hair loss forum and social community
Get Proven Treatments at the Best Prices by visiting our new online hair loss treatment shop.
Watch hair transplant videos on YouTube
Follow us on: Facebook | Twitter | YouTube
Technorati Tags: Propecia, Hair Loss Treatment, hair loss, finasteride, permanent sexual side effects, male pattern baldness, Merck, thinning hair, hair growth, hair loss treatments, genetic baldness