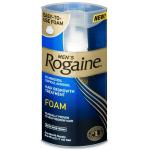 Rogaine foam, containing the only FDA approved topical ingredient for baldness, has proven effective in slowing down / stopping the progression of hair loss and regrowing hair in many men and women. It's easy to apply, odor free and doesn't leave hair feeling greasy like its liquid Rogaine counterpart. The only real disadvantage for many is the cost.
Many manufacturing companies have produced generic versions of minoxidil, the active ingredient in Rogaine, and are available to consumers for a fraction of the cost. But is there a generic version of the highly coveted Rogaine foam?
Recently, Perrigo Company, the largest manufacturer of over-the-counter pharmaceuticals in the United States announced its FDA approval to produce a generic version of Rogaine foam for hair loss. The upcoming availability of this new generic minoxidil foam has many hair loss sufferers very excited.
To learn more about this upcoming generic minoxidil foam including when it will become available for purchase, visit "FDA Approves Generic Rogaine Foam for Hair Loss".
To discuss this new, exciting hair loss treatment on our discussion forum, visit "Generic Rogaine Foam Coming to Market". You are encouraged to add your input and personal experience with Rogaine or minoxidil products on this interesting topic.
To purchase Rogaine Foam and other credible hair loss treatments at discounted prices, visit our online hair loss product shop. To see our current special, limited time offers, click here.
____
David – aka TakingThePlunge
Forum Co-Moderator and Editorial Assistant for the Hair Transplant Network, the Hair Loss Learning Center, the Hair Loss Q&A Blog, and the Hair Restoration Forum
Get Proven Hair Loss Treatments at the Best Prices by visiting our new Online Hair Loss Product Store
Technorati Tags: Rogaine foam, baldness, hair loss, regrowing hair, Rogaine, minoxidil