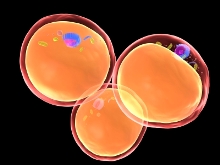 Earlier this week, researchers from Yale University demonstrated a connection between fat derived stem cells ("fatty" or adipose stem cells) and hair follicle stimulation and new hair growth in mice.
During the experiment, the team found a correlation between the number of "precursor fat cells" (fatty stem cells) surrounding hair follicles and the number of follicles capable of entering the anagen growth phase and producing terminal hairs in mice.
In fatty stem cell deficient mice (with little to no fat cells surrounding the hair follicles), the follicles remained in the dormant, telogen phase and caused noticeable baldness. The researchers injected these deficient mice with fat (containing the fatty stem cells) derived from healthy donors and found normal follicle function and new hair growth within two weeks.
According to the research team, the new hair growth and reversal of follicle dormancy, which was noted in 86% of resting hair follicles treated with the injected stem cells, is likely caused by a platelet derived growth factor produced by the fatty stem cells in amounts 100 times greater than the average cell.
In an interview with BBC news, Dr. Valerie Horsley, a member of the Yale research team, claimed: If we can get these fat cells in the skin to talk to the dormant stem cells at the base of hair follicles, we might be able to get hair to grow again. 
At this point in time, the researchers claim these results are seen exclusively in mice and may not be reproduced in human trials. However, the study definitely represents an exciting development in the search for non-invasive, cellular-based hair loss treatments.
To review the published study, click here.
_______________
Blake Bloxham – formerly "Future_HT_Doc"
Editorial Assistant and Forum Co-Moderator for the Hair Transplant Network, the Hair Loss Learning Center, the Hair Loss Q&A Blog, and the Hair Restoration Forum
Follow our community on Twitter
Watch hair transplant videos on YouTube
Get Proven Hair Loss Treatments at the Best Prices by visiting our new Online Hair Loss Product Store
Technorati Tags: stem cells, adipose stem cells, hair follicle, precursor fat cells, fatty stem cells, anagen growth phase, baldness, hair growth, injected stem cells, hair loss