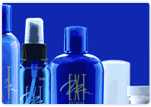 The promise of a future hair loss cure leaves balding men and women hungry for their hair, hoping that one day, their dream of restoring their long lustrous locks will become a reality.   But does a cure really exist today?
New hair loss treatments are produced as quickly as others disappear, which in itself is something serious to consider.   Extreme Hair Therapy known as EXT boldly claims that it will wind up "rejuvenating your hair" and "rejuvenating your life".    Claiming success without any chance of failure, no wonder this has piqued interest.
Is EXT an effective hair loss treatment? Add your input on this thread.
Bill
Associate Publisher
Technorati Tags: hair loss, balding, hair loss treatment, Extreme Hair Therapy, EXT