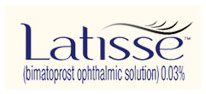 In 2008, the U.S. Food and Drug Administration approved the drug Latisse (Bimatoprost) for the cosmetic purpose of lengthening and darkening eyelashes. Because Bimatoprost (a prostaglandin/prostamide analog) seemed to induce new activity in eyelash hair follicles, researchers and hair restoration experts immediately began evaluating the use of the drug on human scalp.
After several years of research, it seemed like Bimatoprost presented some efficacy in regrowing scalp hair and inducing activity in scalp hair follicles (i.e. treating hair loss), but the mechanism and efficiency of the therapy was poorly understood.
However, recently, several hair loss researchers, including Coalition hair transplant surgeons Drs. Nilofer and Bessam Farjo, found an exciting connection between Bimatoprost treatment and new hair growth, and also believe they've finally demonstrated how the drug actually works.
In a study published in the FASEB Journal, the hair loss researchers sought to evaluate the effect of Bimatoprost on non-eyelash (scalp) follicles, and found the following:
First, Bimatoprost increased hair synthesis in both scalp follicle origin culture (follicles isolated outside of the body) and in living mouse models. Second, after adding an element that blocked the Bimatoprost-sensitive prostamide receptors in follicles, new hair synthesis ceased (indicating a direct Bimatoprost-to-receptor mechanism in hair follicles). Third, using DNA analysis, the team located  three genes for the Bimatoprost-sensitive receptors, which, according to the team, are likely expressed near the regenerative dermal papilla region of the hair follicle.
Based on these findings, the team concluded the following: a direct pathway between Bimatoprost and hair follicle stimulation exists, and indicates that Bimatoprost/Latisse offers a "low-risk, novel approach" to treating hair loss.
We will update as new developments unfurl!
______________
Blake Bloxham – formerly "Future_HT_Doc"
Editorial Assistant and Forum Co-Moderator for the Hair Transplant Network, the Hair Loss Learning Center, the Hair Loss Q&A Blog, and the Hair Restoration Forum
Follow our community on Twitter
Watch hair transplant videos on YouTube
Technorati Tags: Latisse, Bimatoprost, hair follicles, hair restoration, hair loss, hair transplant surgeon, new hair growth