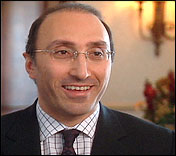 Coalition hair transplant surgeon Dr. Bessam Farjo recently announced that he is performing a live hair transplant procedure on June 11th, 2012.
According to Dr. Farjo, not only is this the first live hair restoration procedure of its kind performed in the United Kingdom, but the event will also stream online in real time and includes a live question and answer session (via Twitter) with both Dr. Farjo and his patient during the operation!
According to the official press release:
Thought that you may like to know about the live hair transplant surgery broadcast at Farjo Medical on June 11th, 2012. I believe that this will be the first of its kind in the United Kingdom with both surgeon and patient taking part in a real-time Q & A via Twitter throughout the procedure.
The event will take place this coming Monday, June 11th starting at 10am (GMT).
Our patient is a former premiership football player and current pundit who will be will be undergoing surgery to improve his receding hairline The event will be streamed live to viewers across the internet at  http://livesurgery.farjo.net or via a link on our website – farjo.com. 
You and other viewers will be invited to submit questions via Twitter and engage in an online conversation throughout the course of the surgery, providing unique access to the procedure and its progress, from both the patient's and surgeon's points of view.
Brian Beacom, a well known journalist and author of a highly successful book "Diary of a Hair Transplant", will be hosting the event.
We look forward to you joining us then!
Please keep in mind that because of time zone differences, the streaming procedure will start at 5:00 AM Eastern Standard Time for those watching the groundbreaking surgery from the United States.
Exciting news!
________________
Blake  – aka Future_HT_Doc
Editorial Assistant and Forum Co-Moderator for the Hair Transplant Network, the Hair Loss Learning Center, the Hair Loss Q&A Blog, and the Hair Restoration Forum
Follow our community on Twitter
Watch hair transplant videos on YouTube
Technorati Tags: hair transplant, hair transplant procedure, hair restoration, hair transplant surgery