Always known for their innovation and dedication to furthering the follicular unit transplantation (FUT) "Mega Session," Drs. Victor Hasson and Jerry Wong (of Hasson & Wong) recently broke hair transplant records by transplanting over 9,000 follicular unit grafts in a single session.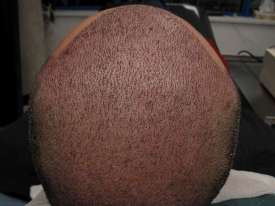 According to the clinic, the patient, a Norwood level 5 hair loss sufferer, underwent an estimated 15 hour procedure, during which a team of dedicated technicians implanted 9,168 grafts. A representative from the clinic shared the following:
Dr. Hasson and Dr. Wong are known world-wide for being true innovators in the field of hair restoration. Dense packing, the Lateral Slit Technique, donor closures, etc. They are also known for being able to safely harvest more hair in one procedure than any other clinic.
We were the first clinic to document and share, on the hair restoration forums, 4000 grafts in one procedure, 5000 then 6000 grafts. We then shared 7000 grafts and 8000 grafts in a single procedure. No other clinic has ever achieved this. I'm excited to share that Dr. Hasson has now broken the seemingly impossible barrier of 9,000 grafts in a single procedure. The exact number is actually 9168 grafts, again, in a single procedure. 
To review Dr. Hasson's excellent work, feel free to visit the on going discussion thread at our hair loss forums or view the thumbnails below.
Congratulations to Hasson & Wong!
__________________
Blake  – aka Future_HT_Doc
Editorial Assistant and Forum Co-Moderator for the Hair Transplant Network, the Hair Loss Learning Center, the Hair Loss Q&A Blog, and the Hair Restoration Forum
Follow our community on Twitter
Watch hair transplant videos on YouTube
Technorati Tags: follicular unit transplantation, FUT, hair transplant, follicular unit grafts, hair loss, hair restoration