This question comes from a member of our Hair Loss Social Community and Discussion Forums:
I've started researching preventive hair loss medications and find myself confused about the difference between dutasteride (Avodart) and finasteride (Propecia) for male pattern baldness. What is the difference between these two medications?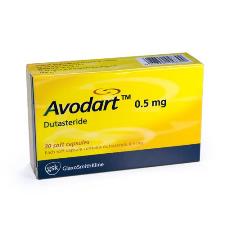 In theory, the biggest difference between dutasteride and finasteride is that dutasteride blocks both forms (type 1 and type 2) of the alpha-reductase enzyme that is associated with the conversion of testosterone to dihydrotestosterone – the hormone responsible for hair loss, whereas finasteride only blocks type 2.
However, it was my understanding that only the type 2 enzyme is actually associated with the significant testosterone to dihydrotestosterone conversion as far as hair loss is concerned, and only blocking type 2 effectively prevents male baldness (though some studies argue that dutasteride/Avodart demonstrated a higher hair count while utilizing the medication).
Additionally, most people likely utilize finasteride (specifically in Propecia) above dutasteride because it has been tested and proven safe and effective for treating male hair loss. Furthermore, some hair loss sufferers report issues with the additional costs of dutasteride/Avodart and less available information regarding potential side effects.
_______________
Blake Bloxham – formerly "Future_HT_Doc"
Editorial Assistant and Forum Co-Moderator for the Hair Transplant Network, the Hair Loss Learning Center, the Hair Loss Q&A Blog, and the Hair Restoration Forum
Follow our community on Twitter
Watch hair transplant videos on YouTube
Get Proven Hair Loss Treatments at the Best Prices by visiting our new Online Hair Loss Product Store
Technorati Tags: Hair Loss, preventive hair loss medications, dutasteride, Avodart, finasteride, Propecia, male pattern baldness, dihydrotestosterone, male baldness, male hair loss, hair loss sufferers