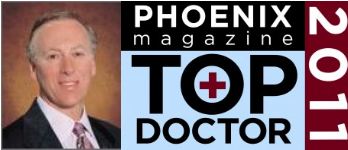 Each year, Phoenix Magazine publishes its list of top physicians from more than 50 fields of practice. This year, hair restoration was added to the list of specialties.  We are pleased to announce Dr. Shelly Friedman was selected as Phoenix, Arizona's #1 Hair Transplant Surgeon for 2011. Dr. Friedman is also recommended on the Hair Transplant Network.
Only a select number of physicians are chosen for this honor each year. Phoenix Magazine nominates physicians for this honor through a peer-review survey.  This includes randomly surveying 5,000 physicians from around the Phoenix area, including M.D.s (medical doctors), D.O.s (osteopathic doctors) and N.D.s/N.M.Ds (naturopathic doctors). The surveys asks physicians to nominate doctors who, in their judgment, are the best in their fields and related ones. Physicians must be board-certified in their respective fields to qualify.
Dr. Friedman has been performing hair transplant surgery as the primary part of his practice for over 25 years and is the Founding President of the American Board of Hair Restoration Surgery (ABHRS), the certifying board for hair transplant surgeons.
Just as the hair transplant industry has evolved significantly since it began, so has Dr. Friedman's technique. Dr. Friedman and his dedicated full time staff averaging 9 years of experience have the ability and experience to perform larger, densely packed sessions of high quality follicular unit hair transplantation exceeding 2500 grafts when appropriate for the patient.
Balding men and women seeking a solution to hair loss in Arizona and beyond are encouraged to consider Dr. Shelly Friedman. To join us in congratulating Dr. Friedman on his recent honor, please add your comments to the following discussion thread on our Hair Restoration Forum, Dr. Shelly Friedman is Named Phoenix's Top Hair Restoration Surgeon of 2011,
—-
David (TakingThePlunge)
Forum Co-Moderator and Editorial Assistant for the Hair Transplant Network, the Coalition Hair Loss Learning Center, and the Hair Loss Q & A Blog.
To share ideas with other hair loss sufferers visit the Hair Restoration Social Network and Enhanced Discussion Forum
Get Proven Treatments at the Best Prices by visiting our new Online Hair Loss Treatment Shop.
Follow us on: Facebook | Twitter | YouTube