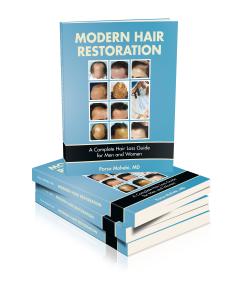 Recommended hair transplant surgeon Dr. Parsa Mohebi recently announced that he published a new book entitled: Modern Hair Restoration – a Complete Hair Loss Guide for Men and Women. 
According to Dr. Mohebi, the new book provides a: "360 degree overview on hair loss and hair restoration, exploring causes, psychological effects of hair loss on men and women, and diagnosis and treatment options." Dr Mohebi says he decided to write the new book because: "He felt like there was a need to provide a comprehensive guideline on hair restoration that can be referenced freely."  The book "features an emphasis on hair restoration techniques for both men and women, including the newest methods of hair restoration such as Follicular Unit Extraction (FUE), Partial Tricophytic Closure, Scalp Micropigmentation (SMP), and future advances in hair restoration technology."
Dr. Mohebi also believes the book addresses the complex nature of hair loss and states: "Self-image is something that every individual deals with on a day to day basis, and is so important that it can sometimes dictate our lives. This book addresses how baldness not only affects our self-image from a personal standpoint, but how it can also limit or negatively impact our self-esteem, future outlook, overall happiness, career opportunities, and even our sex lives."
Dr. Mohebi truly believes this book will help hair loss sufferers and broaden the public's general understanding of modern hair restoration, and we applaud his efforts! Interested in obtaining a copy of Modern Hair Restoration: A Complete Hair Loss Guide for Men and Women? If so, please see the announcement on Dr. Mohebi's hair restoration blog.
Please join me in congratulating Dr. Mohebi on the new book!
____________
Blake – aka Future_HT_Doc
Editorial Assistant and Forum Co-Moderator for the Hair Transplant Network, the Hair Loss Learning
Center, the Hair Loss Q&A Blog, and the Hair Restoration Forum
Follow our community on Twitter
Watch hair transplant videos on YouTube
Technorati Tags: hair transplant, Hair Loss, hair restoration, Follicular Unit Extraction, FUE, Scalp Micropigmentation, SMP, baldness