Recommended hair restoration surgeon Dr. Parsa Mohebi recently announced the development of the new Laxometer to accurately measure scalp laxity during hair transplant surgery.
According to Dr. Mohebi, the new tool, aptly titled the "Laxometer II," allows for an accurate measurement of donor region scalp laxity prior to the strip excision phase of a  Follicular Unit Transplantation (FUT) procedure. This tool, which will be officially unveiled at the 2011 Scientific Meeting of the International Society of Hair Restoration Surgery (ISHRS), precisely determines the amount removable donor tissue – maximizing the number of available follicular unit grafts while minimizing harmful transection and post-operative scarring.
In the official announcement, Dr, Mohebi states: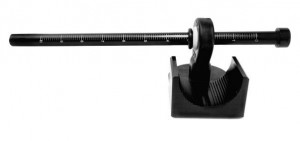 Thanks to this new advancement in hair restoration surgery, today, we can transplant a very large number of grafts and restore a person's hair in simply one session, even if they are in the most advanced stages of baldness. Until recently, a procedure of this magnitude required two or more hair transplantations to achieve the desired coverage and hair density. This new ground breaking innovation will save time and money for both the patient and the surgeon.
More information about the Laxometer II will be available after the upcoming ISHRS meeting.
_______________
Blake – aka Future_HT_Doc
Editorial Assistant and Forum Co-Moderator for the Hair Transplant Network, the Hair Loss Learning Center, the Hair Loss Q&A Blog, and the Hair Restoration Forum
Follow our community on Twitter
Watch hair transplant videos on YouTube
Get Proven Hair Loss Treatments at the Best Prices by visiting our new Online Hair Loss Product Store
Technorati Tags: hair restoration surgeon, Laxometer, scalp laxity, hair transplant surgery, Laxometer II, scalp laxity, Follicular Unit Transplantation, FUT, ISHRS, follicular unit grafts