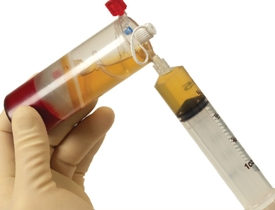 In order to increase the ultimate survival, caliber, and even the rate at which hair follicles grow after transplantation, patients and hair restoration physicians alike are looking for methods to best care for them when they are in the precarious state out of the body (after extraction, but before implantation).  Dr. Carlos K. Wesley will lecture to fellow physicians on "New Frontiers in Surgical Hair Restoration" at the Mount Sinai Medical Center Multi-Specialty Spring Symposium in New York City in which he will discuss the various advancements in hair follicle storage prior to transplantation.
Sentiment in the field of surgical hair restoration is increasingly favoring the use of platelet rich plasma (PRP) as a possible storage solution to achieve the three goals stated above.  Dr. Wesley has even noted the benefit of incorporating PRP into the intra-operative graft storage process as patients appear to produce transplanted hair growth slightly earlier than the standard timeline at which transplanted hairs are normally appreciated.
While these observations related to PRP are promising, the mystery behind this product remains: What is it about PRP that may produce this benefit?  Is there a particular element within the autologous solution that is most critical in the stimulation of hair growth and development?  To shed light on this question, Dr. Wesley collaborated with immunologists at Mt. Sinai Medical Center to investigate the following variables on hair characteristics:
1. The degree of physiologic concentration of platelets in PRP
2. The specific concentration of certain growth factors thought to be involved in the stimulation cascade:
 Endothelial derived growth factor (EGF)
 Vascular endothelial growth factor (VEGF)
 Two different forms of platelet derived growth factor (PDGF)
3. The type of influence on hair phenotype the use of PRP has including:
hair mass
hair density
hair caliber
By directly correlating the specific characteristics of the PRP solution with the degree of influence it has on hair characteristics, we will better understand the nature of this product and, ultimately, ensure the most consistently beneficial results.
– Dr Carlos Wesley
To help demonstrate his point, Dr. Wesley has included a pre-operative image and a 5 month update of a hair transplant patient who had his follicular unit grafts stored in PRP during the procedure. Please click on the thumbnails below: 
Blake – aka Future_HT_Doc
Editorial Assistant and Forum Co-Moderator for the Hair Transplant Network, the Hair Loss Learning
Center, the Hair Loss Q&A Blog, and the Hair Restoration Forum
Follow our community on Twitter
Watch hair transplant videos on YouTube
Technorati Tags: hair restoration physicians, hair restoration, platelet rich plasma, PRP, hair transplant