Because of his hair loss expertise and dedication to state-of-the-art hair restoration, recommended hair transplant surgeon Dr. Carlos Wesley was recently invited to author a chapter on hair transplantation in the 7th edition of the Grabb and Smith Plastic Surgery Textbook.
According to the official release: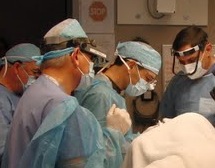 Carlos K. Wesley, M.D., A.B.H.R.S. has been invited to author the Hair Transplantation to the 7th edition of the "Grabb and Smith Plastic Surgery" textbook.  This authoritative text enjoys a rich history in the field of plastic surgery and is the only remaining single-volume text that attempts to cover the entire field in a comprehensive manner.  
In authoring this chapter, Dr. Wesley will help young plastic surgeons around the world to better understand the important concepts of hair restoration ranging from the various techniques employed for hair follicle harvesting and aesthetic recipient pattern design to the various medical therapies for androgenetic alopecia and appropriate patient selection for hair restoration surgery.
Congratulations Dr. Wesley!
__________________
Blake  – aka Future_HT_Doc
Editorial Assistant and Forum Co-Moderator for the Hair Transplant Network, the Hair Loss Learning Center, the Hair Loss Q&A Blog, and the Hair Restoration Forum
Follow our community on Twitter
Watch hair transplant videos on YouTube
Technorati Tags: hair loss, hair restoration, hair transplant, hair transplantation, androgenetic alopecia, hair restoration surgery