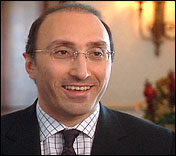 In a recent interview with BBC news, recommended hair transplant surgeon Dr. Bessam Farjo discusses age limitations associated with hair transplant surgery. Specifically, Dr. Farjo explains the dangers of performing surgical hair restoration on young hair loss sufferers and emphasizes why clinics need to properly inform patients about the progressive nature of genetic baldness.
According to Dr. Farjo, patients as young as 19 years old frequently inquire about hair transplantation, but his clinic discourages surgery for patients under 25 and highly recommends most individuals postpone the procedure until closer to 30 years of age.
Dr. Farjo emphasizes that hair loss is a progressive, on-going condition and operating on patients without controlled thinning can result in an aesthetically unpleasant appearance and significant disappointment.
Furthermore, Dr. Farjo emphasizes the importance of utilizing proven, preventive hair loss medications (such as Rogaine/minoxidil and Propecia/finasteride) in hair loss sufferers too young for surgical hair restoration. By preventing progressive baldness and maintaining native hair, patients are able to control their hair loss and undergo hair transplant surgery at a later date.
We applaud Dr. Farjo's dedication and ethical practices, and hope he'll continue sharing his expert knowledge with hair loss sufferers everywhere.
To read the full interview, click here.
_______________
Blake – aka Future_HT_Doc
Editorial Assistant and Forum Co-Moderator for the Hair Transplant Network, the Hair Loss Learning Center, the Hair Loss Q&A Blog, and the Hair Restoration Forum
Follow our community on Twitter
Watch hair transplant videos on YouTube
Get Proven Hair Loss Treatments at the Best Prices by visiting our new Online Hair Loss Product Store
Technorati Tags: BBC news, hair transplant, Dr. Bessam Farjo, hair transplant, Dr. Farjo, hair restoration, hair loss, genetic baldness, hair transplantation, hair loss medications, Rogaine, minoxidil, Propecia, finasteride, hair transplant surgery, hair loss sufferers