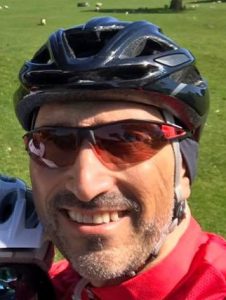 Dr Bessam Farjo, an esteemed member of the Coalition of Independent Hair Restoration physicians, is part of a group of 22 cyclists who will ride from Venice to Milan to raise awareness and funds for Operation Restore.  This group of hair transplant surgeons and support staff, are going to push themselves for 60 miles per day for 4 days, for a total of 240 miles, in support of this worthwhile cause.
To date, Operation Restore has provided more than $650,000 worth of free hair restoration surgery and expenses to more than 65 patients around the world who have suffered permanent hair loss as a result of trauma or disease. This initiative is run by the International Society of Hair Restoration Surgery, the world biggest educational body in the field of hair restoration.
Operation Restore patients have survived cancer, fire, accidents and other unthinkable tragedies. Volunteer physicians are restoring far more than hair. They are restoring self-image and self-esteem and forever changing the lives of these patients!
Please consider donating to this worthy cause through this link: https://www.justgiving.com/campaigns/charity/internationalsocietyofhairsurgeons/venicetomilan OR http://www.justgiving.com/FarjoOperationRestore?utm_id=26
Operation Restore Patient Story
Born 15 weeks premature and given only a 5% chance to live, Hanna's difficult birth resulted in severe bruising on her head — leading to lifelong scarring that destroyed the hair follicles on her scalp. Hanna knew from a young age that her hair loss made her different.  From being called a monster by classmates to getting dollars from complete strangers in restaurants who assumed she was battling cancer, Hanna's hair loss drew unwanted attention wherever she went. On the first day of kindergarten, Hanna told her classmates, "Don't look at my head, look at my heart. I will be good to you, you be good to me."
Despite being turned down by their insurance company twice, Hanna's family was determined to find a way. They learned of ISHRS's Operation Restore program. Operation Restore is a pro bono program of the International Society of Hair Restoration Surgery (ISHRS) designed to match prospective hair restoration patients suffering from hair loss as a result of an accident, trauma or disease with a physician willing to help those who lack the resources to obtain treatment on their own.
Hanna was matched by Hair Transplant Network recommended physician Dr. Bill Parsley who performed three surgeries at no cost over three years to restore Hanna's hair which in turn, restored her self-esteem.
See Hanna's before and after photos: http://www.ishrs.org/content/operation-restore-hannas-and-after-photos
Please help more prospective patients by donating to this worthy cause.
Note: Other outstanding physicians raising support and/or participating in Operation Restore Include the following:
Dr. Ron Shapiro
Dr. Jim Harris
Dr. Bob Haber
Dr. Jerry Cooley