I still have good hair coverage in my hairline, not great but good. It is basically in a "V" formation, and the hairs within the "V" are kind of thinning. If minoxidil would work to its full capacity, how would it grow thinning hair to its original thickness? I mean, I have read that hairs thin and then they fall out from Rogaine and start growing new ones. I cant imagine the hundreds or thousands of hairs on my hairline to fall out, then grow again. If minoxidil does work after a while do those hairs just keep growing but get thicker from the base. Help?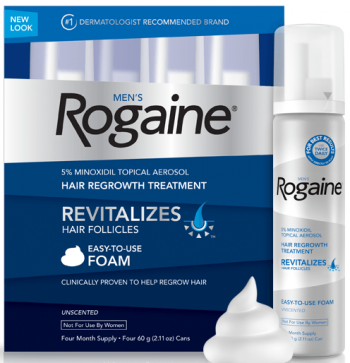 Rogaine (minoxidil) works best when applied to areas of thinning hair rather than completely bald areas. Miniaturizing hairs may still be revivable and as Rogaine stimulates the hair follicle (the base), it may help reverse the hair loss process. In order to understand this, you have to understand the natural hair growth cycle and how hair loss impacts it. Even healthy hair goes through cycles of growth, shedding, and rest. When DHT (the hormone responsible for male pattern baldness) binds to the receptors of susceptible hairs, the follicle weakens and slowly starts to die. As a result, the resting phase increases while the growth phase decreases. Hair becomes thinner and shorter until the follicle is too damaged to reproduce a hair.
Rogaine induced hair shedding is not a guarantee and doesn't always happen to every hair its applied to. If Rogaine is working, these hairs will grow back stronger and fuller and the hair follicle is repaired from damaged caused by DHT.
Bill – Managing Publisher