This question comes from a member of our hair loss social community and discussion forums:
I recently consulted with a hair transplant surgeon who recommended the use of Platelet Rich Plasma (PRP) during the procedure. Is this useful? How is PRP generally used? Does PRP actually increase the yield or growth of a hair transplant procedure?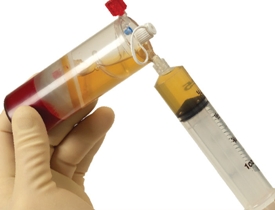 Recently, more hair transplant surgeons have begun utilizing PRP in surgery. The physicians using PRP during hair transplants do so in two different ways:
1.) By treating the recipient area with PRP prior to (or during) graft insertion. 
2.) Using PRP (or platelet poor plasma – PPP) as a follicular unit graft storage medium.
These physicians believe the use of PRP helps improve yield, decreases healing time, and helps grafts stay healthy while outside the body. However, this has not been thoroughly researched and all evidence is anecdotal at this point in time. 

Those seeking more information may be interested in the following article: Platelet Rich Plasma (PRP): An Important Role in Hair Transplant Surgery? Hopefully it provides some additional information.
_______________
Blake Bloxham – formerly "Future_HT_Doc"
Editorial Assistant and Forum Co-Moderator for the Hair Transplant Network, the Hair Loss Learning
Center, the Hair Loss Q&A Blog, and the Hair Restoration Forum
Follow our community on Twitter
Watch hair transplant videos on YouTube
Technorati Tags: hair loss, hair transplant surgeon, Platelet Rich Plasma, PRP, hair transplant