I am scheduled to have a hair transplant next month, but I am wondering if cutting my hair will delay the growth of my procedure?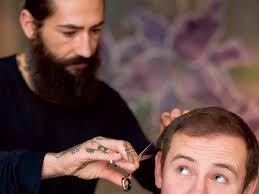 Cutting ones hair after a hair transplant will not delay the growth of the procedure. In fact, many hair transplant surgeons suggest patients trim their hair to make everything appear uniform. Depending on the surgical technique, some patients find it beneficial to buzz their entire scalp. However, this is not a requirement or a necessity it is entirely up to the patient.  Once the transplanted grafts have shed they enter the telogen (resting) phase where they will remain for several months before sprouting.
The hair life cycle has three phases:
*Anagen (growth phase)
*Catagen (transitional phase)
*Telogen (resting phase)
Each hair follicle is independent and goes through the anagen (growth), catagen (transitional) and telogen (resting phase) at different times. Therefore, trimming or cutting ones hair has no direct impact on the transplanted grafts.
Generally, the majority of patients don't see any noticeable growth until 3-4 months after hair transplant surgery. Furthermore, some individuals may not see any noticeable growth until the 5th or 6th month and even then the growth may not make a cosmetic difference. Unfortunately, hair growth is a process that requires patience and a bit of faith. It is important to understand that not every patient will grow at the exact same rate and even other transplanted hair may not grow at the same rate. In the beginning stages of hair growth, the transplanted hairs are fine and colorless which can make it difficult for a patient to notice or detect.
The transplanted hair takes 12 months to fully grow. However, not all of the hair follicles mature and grow in to their final state at 12 months. It may take up to 18 months for the results to fully manifest.
Written and published by,
Melvin- Editorial Assistant and Forum Co-Moderator for the Hair Transplant Network and The Coalition of Independent Hair Restoration Physician