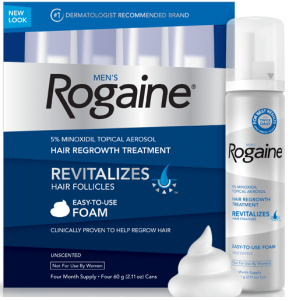 Taking Rogaine (minoxidil) post hair transplant surgery is something that should be discussed with a hair transplant surgeon in depth prior to having the procedure.  In this article we will go over how Rogaine (minoxidil) works, what kind of results can be expected and any potential side effects that may occur from using the drug.
History of Rogaine: Rogaine is one of the two FDA approved medications to prevent and stop the progression of androgenic alopecia or genetic hair loss. Minoxidil, (Rogaine's active ingredient), was originally created as a drug for treating hypertension (high blood pressure). It was later discovered that hair growth was a side effect of the medication. Minoxidil was then tested for use as a topical medication for regrowing hair. The results were impressive and the medication was approved to treat androgenic alopecia or genetic hair loss.
How Rogaine Works: Rogaine(minoxidil) works by prolonging the anagen (growth) phase of the follicular life cycle (also called the hair growth cycle). It also revitalizes miniaturized hairs and increases their size in diameter. Thus, when Rogaine (minoxidil) is used daily the hair follicles will increase in size and the growing phase may become longer. Consequently, providing an appearance of a fuller head of hair.
What to expect with Rogaine (minoxidil): Generally, Rogaine (minoxidil) only regrows hair in a small minority of men and women. In most cases, Rogaine (minoxidil) works by preserving and maintaining hair or slowing down the progression of genetic hair loss. Rogaine (minoxidil) does not inhibit the conversion of Testosterone to Dihydrotestosterone (DHT) the main catalyst for androgenic alopecia or genetic hair loss. Therefore, it will not stop the hair follicles from being attacked by Dihydrotestosterone (DHT).
What are the side effects of Rogaine: Rogaine is only reported to have minor side effects. However, some users do experience certain issues such as scalp irritation, itching and dandruff. But these side effects can be treated with the use of shampoos like Nizoral or Neutrogena T-Gel. In rare cases, some users may experience chest pain, heart palpitations and difficulty breathing.
Conclusion
Many of our world renowned coalition surgeons agree that Rogaine (minoxidil) can be beneficial following surgery. The surgical trauma caused by hair restoration surgery can sometimes lead to what is known as "shock loss" which is a temporary shedding of the hair. Rogaine is thought to possibly prevent the temporary loss of preexisting hair. It is important to discuss the pros and cons of the medication in depth with a qualified hair restoration surgeon prior to having surgery.
Written By,
Melvin (HTSoon) – Editorial Assistant and Forum Co-Moderator For the Hair Transplant Network, the Coalition Hair Loss Learning Center, and the Hair Loss Q & A Blog. To share ideas with other hair loss sufferers visit our new Hair Loss Forum and Social Community.