This question, asked by a member of our hair loss social community and discussion forums, was answered by a representative for Coalition hair transplant surgeon Dr. H. Rahal:
I'm undergoing hair transplant surgery next month. The clinic said to stop minoxidil (Rogaine) one month before the procedure. Why do I need to stop the medication? Is one month before surgery the recommended time period for stopping minoxidil?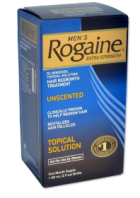 Rogaine/Minoxidil promotes blood circulation and flow to the scalp (to promote healthy hair growth to your native hairs). We ask that you stop using it a month prior to your procedure to minimize bleeding on the day of your procedure. Since we're making several hundreds to thousands of incisions to our recipient area, we don't want you to bleed any more than you need to. In addition, it makes it easier to continue to make the incisions during the procedure and allows for easier implanting.
-Robert, Senior Patient Adviser
______________
Blake Bloxham – formerly "Future_HT_Doc"
Editorial Assistant and Forum Co-Moderator for the Hair Transplant Network, the Hair Loss Learning
Center, the Hair Loss Q&A Blog, and the Hair Restoration Forum
Follow our community on Twitter
Watch hair transplant videos on YouTube
Technorati Tags: hair loss, hair transplant surgeon, Rahal, hair transplant, minoxidil, Rogaine