This common question comes from a member of our hair loss social community and discussion forums:
I want to start Propecia (finasteride) for my hair loss. I found a website online where I can order the medication without a prescription. I've never seen a physician about my hair loss, and I'm wondering if I should do this before starting the medication? Should I see a doctor? Do I need a prescription for Propecia?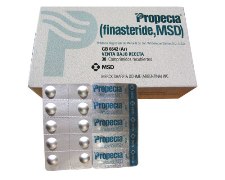 Finasteride – either as 1mg "Propecia" or 5mg "Proscar" – is a prescription medication. This means the drug possess a number of serious – both positive and, potentially, negative – effects and may not be suited for all patients. The decision to take this medication must be made by both the patient and a knowledgeable physician. Before prescribing any medication, a physician will review the patient's past medical history, allergies, and current state of health, and determine if the drug is appropriate. Patients may sometimes think a drug is a "good fit" for their health issue; however, a physician may recognize a problem within the patient and refuse to prescribe the drug. Clearly, this could cause issues and demonstrates why patients shouldn't "self-prescribe" serious medications.
Propecia/Proscar, as a prescription medication, is no exception. We understand websites offer the drug online without a prescription. As outlined above, however, we feel like this is not ideal. Any hair loss sufferer considering finasteride should consult with an experienced hair loss physician, undergo an thorough evaluation, and receive a legitimate prescription for the drug.
___________
Blake Bloxham – formerly "Future_HT_Doc"
Editorial Assistant and Forum Co-Moderator for the Hair Transplant Network, the Hair Loss Learning
Center, the Hair Loss Q&A Blog, and the Hair Restoration Forum
Follow our community on Twitter
Watch hair transplant videos on YouTube
Technorati Tags: hair loss, Propecia, finasteride, Proscar