This question was asked by a member of our Hair Loss Social Community and Discussion Forums:
I recently consulted with a hair transplant surgeon and noticed that he suffered from a significant degree of hair loss. It made me curious, do hair restoration surgeons frequently undergo hair transplant surgery themselves?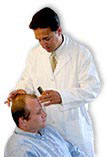 Interesting topic! I actually think quite a few hair restoration physicians either discovered the field of medical hair restoration while seeking a solution for their own hair loss, or underwent a procedure after performing hair transplantation for a period of time and realizing the potential it could have on their own scalp.
I seem to remember an interview where one recommended hair transplant surgeon discussed his own hair transplant procedure and a procedure he performed on a colleague. Additionally, I recall an  interview with a well known, bald hair transplant surgeon who was met with puzzled questions regarding his chosen career path and own level of hair loss.
Would you like to follow this discussion topic further? If so, feel free to visit the thread: Which Hair Transplant Surgeons Have Undergone Hair Transplantation Themselves?
_______________
Blake Bloxham – formerly "Future_HT_Doc"
Editorial Assistant and Forum Co-Moderator for the Hair Transplant Network, the Hair Loss Learning Center, the Hair Loss Q&A Blog, and the Hair Restoration Forum
Follow our community on Twitter
Watch hair transplant videos on YouTube
Get Proven Hair Loss Treatments at the Best Prices by visiting our new Online Hair Loss Product Store
Technorati Tags: Hair Loss, hair transplant surgeon, hair restoration surgeons, hair transplant surgery, hair restoration, hair transplantation, bald