This question comes from a member of our Hair Loss Social Community and Discussion Forums:
If a follicular unit graft is damaged during a follicular unit extraction (FUE) hair transplant procedure, will it grow back in the existing scalp or in the implanted area?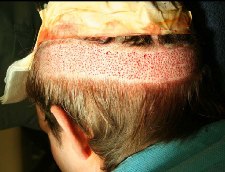 One of the biggest challenges associated with follicular unit extraction (FUE) is avoiding follicular unit transsection, or an accidental cutting of the graft. Because the hair follicle and visible hair shaft (usually) grow at different angles, following hairs down to the scalp and attempting to remove them via extraction in this manner can result in an accidental cutting or transsection of the graft.
Whether the remainder of the graft is left in the scalp or removed and implanted in the balding areas, it is usually damaged and will not grow as effectively as before. In most cases, the degree of transsection dictates how the graft will continue producing hairs, but it's very likely that the graft is no longer functional and will not grow.
_______________
Blake Bloxham – formerly "Future_HT_Doc"
Editorial Assistant and Forum Co-Moderator for the Hair Transplant Network, the Hair Loss Learning Center, the Hair Loss Q&A Blog, and the Hair Restoration Forum
Follow our community on Twitter
Watch hair transplant videos on YouTube
Get Proven Hair Loss Treatments at the Best Prices by visiting our new Online Hair Loss Product Store
Technorati Tags: Hair Loss, follicular unit graft, follicular unit extraction, FUE, hair transplant, follicular unit transsection, balding