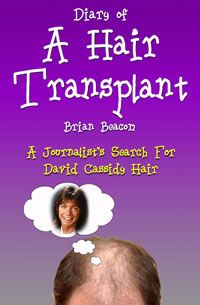 Our patient driven hair loss community contains thousands of real hair restoration success stories and before and after hair transplant photos.
Recently,  discussion  forum member and journalist Brian Beacom shared his hair transplant experience with our community. He is so pleased with his results that he used his journalist skills to athor a book titled "Diary of a Hair Transplant – A Journalist's Search For David Cassidy Hair".
In this enjoyable and personal testimony, Brian details not only his hair transplant experience, but how hair loss affected him and his great longing to restore his youthful appearance and acquire hair like the Partridge Family's David Cassidy. His desire for the lustrous locks of a rock star captured his mind to borderline obsession until he found world renowned Coalition Physician Dr. Farjo that helped turn his hair restoration dreams into reality.
The book features his futile attempts at hair regrowth using a multitude of various alleged hair loss solutions and an attempt at understanding how those with hair love to mock those with male pattern baldness. Inevitably, Brian shares his reaction and research that led him to restore his hair through surgical hair restoration and how the Hair Transplant Network patient driven community helped educate and nurture him through the process.
For those of you struggling with losing your hair and interested in reading a personal and thorough account of one man's hair restoration journey with photos, you may want to pick up a copy of "Diary of a Hair Transplant – A Journalist's Search for David Cassidy Hair".
Bill
Associate Publisher/Editor
Technorati Tags: hair loss, hair restoration, Brian Beacom, Diary of a Hair Transplant, A Journalist's Search For David Cassidy Hair, hair transplant, Dr. Farjo, hair regrowth, hair loss solutions, male pattern baldness, surgical hair restoration