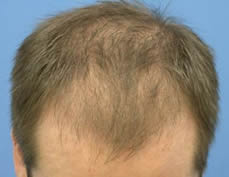 Men and women with thinning hair often assume that their balding will follow one of the patterns of hair loss defined by the Norwood Scale (male pattern baldness) or the Ludwig Scale (female pattern hair loss), but this isn't always the case.
Though androgenic alopecia is the most common form of balding, there are other forms of alopecia hair loss that do not follow a pattern. One of these is Diffuse Patterned Alopecia or DPA.
You can learn more about DPA and other alopecias by visiting the new Alopecia Hair Loss section of the Hair Loss Learning Center.
—-
David (TakingThePlunge)
Editorial Assistant and Forum Co-Moderator for the Hair Transplant Network, the Coalition Hair Loss Learning Center, and the Hair Loss Q & A Blog.
To share ideas with other hair loss sufferers visit the hair loss forum and social community
Get Proven Treatments at the Best Prices by visiting our new online hair loss treatment shop.
Technorati Tags: thinning hair, hair loss, Norwood Scale, male pattern baldness, Ludwig Scale, female pattern hair loss, androgenic alopecia, balding, Diffuse Patterned Alopecia