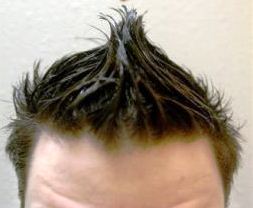 Look at enough hair transplant photos and it soon becomes obvious that there is a trend in the combing and styling displayed. It may best be described as the "network anchorman do." This phenomenon leaves some patients yearning for something more youthful and trendy wondering about the possibilities and limitations of styling a hair transplant. Can you wear it long? Can you spike it? What about the ubiquitous "faux hawk"?
In most cases, hair restoration surgery cannot restore original, natural density to the balding scalp. Instead they rely on a concept known as the "illusion of density" created by skillful placement of the follicular unit grafts and enhanced by an appropriate hairstyle. But, can surgical hair replacement be designed to enhance the look of a specific hairdo?
Forum member, "Cant decide" started the discussion thread entitled, "Was your desired hairstyle discussed as part of your surgical plan?" in the search for an answer to this question. You are encouraged to add your input on this discussion.
—-
David – aka TakingThePlunge
Assistant Publisher and Forum Co-Moderator for the Hair Transplant Network, the Hair Loss Learning Center, the Hair Loss Q&A Blog, and the Hair Restoration Forum
Get Proven Hair Loss Treatments at the Best Prices by visiting our new Online Hair Loss Product Store
Technorati Tags: hair transplant, hair restoration, balding, follicular unit grafts, hair replacement, Hair Loss Treatments, Hair Loss Product