Please answer my questions about the following hair loss treatments.
Does Propecia (finasteride) have any sexual side effects? If so, what are they?
I've been using Rogaine (minoxidil) for the last 3 months but I faced lots of problems on my scalp with irritation and dandruff. If I stop minoxidil I am okay. Now what can I do? Please give me a solution.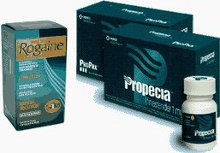 Propecia is currently the most effective treatment for balding men although many hair loss experts believe it works best when combined with minoxidil. According to Propecia's manufacturer Merck, sexual side effects occur in fewer than 2% of patients and these side effects are reversible upon discontinuation of the drug. Side effects range from softer erections, watery semen and gynecomastia (male breast enlargement) to erectile dysfunction.
Many members of our hair restoration forum have experienced little, mild or no side effects from finasteride whatsoever. However, there is currently a class action lawsuit in the works alleging that Merck was not truthful about the incidents of sexual side effects.
For more information, I suggest the following discussion thread and articles.
PROPECIA WARNING – Drug Linked to Erectile Dysfunction & Cancer!
Federal Consolidation of Lawsuits Against Hair Loss Drug Propecia (Finasteride)
Can Treating Hair Loss with Propecia (Finasteride) Lead to Permanent Sexual Side Effects?
Japanese Study Finds Propecia (Finasteride) Safe and Effective for Treating Male Hair Loss
Healthy hair follicles that are not susceptible to the effects of androgenic alopecia (genetic hair loss) will not become dependent on Rogaine. However, new hair growth due to minoxidil will be lost if you discontinue use.
—-
David (TakingThePlunge)
Editorial Assistant and Forum Co-Moderator for the Hair Transplant Network, the Coalition Hair Loss Learning Center, and the Hair Loss Q & A Blog.
To share ideas with other hair loss sufferers visit the hair loss forum and social community
Get Proven Treatments at the Best Prices by visiting our new online hair loss treatment shop.
Watch hair transplant videos on YouTube
Technorati Tags: hair loss treatments, Propecia, finasteride, Rogaine, minoxidil, balding, hair loss, hair restoration, androgenic alopecia