The Platinum follicle award is one of the most prestigious awards given to a leading hair transplant surgeon at each year's ISHRS (International Society of Hair Restoration Surgery) scientific meeting.   This award recognizes outstanding achievement in scientific research as it relates to hair restoration.   This year, the Platinum Follicle Award was presented to Coalition member Dr. Bill Reed of La Jolla, CA.
Dr. Bill Reed is a world renowned hair transplant surgeon and one of the most genuine people I've ever had the pleasure of meeting.   No wonder he's a highly esteemed member of the Coalition of Independent Hair Restoration Physicians.   To see dozens of examples of his exceptional results, visit his Coalition profile.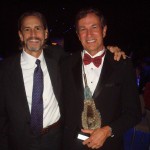 Dr. Timothy Carman and
Dr. Bill Reed (right)  
with the Platinum Follicle
Given his stellar reputation online for producing excellent hair transplant results, there's no question that Dr. Bill Reed deserves this award.   Congratulations to Dr. Reed and his dedicated staff for their outstanding achievements and continued success.
Click here to read about the winner of this year's 2010 ISHRS Golden Follicle Award.
View the official Press Release.
Bill Seemiller – Managing Publisher of the Hair Transplant Network, the Hair Loss Learning Center, the Hair Loss Q&A Blog, and the Hair Restoration Forum and Social Community
Get Proven Hair Loss Treatments at the Best Prices by visiting our new Online Hair Loss Product Store
Technorati Tags: Platinum follicle, ISHRS, International Society of Hair Restoration Surgery, hair restoration, hair transplant