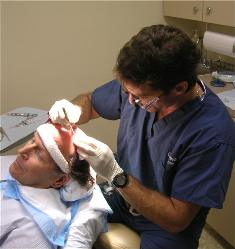 On Saturday, February 4th dedicated physicians from across North America came together at the Charles Medical Group clinic in Boca Raton, Florida to exchange ideas about hair transplantion.
This surgical workshop was sponsored by the Coalition of Independent Hair Restoration Physicians to enable physicians to learn more about Ultra Refined Follicular Unit Transplantation, while sharing ideas and pointers.
The "Gold Standard" for hair restoration surgery has risen to an ultra refined level. The Coalition is focused on advancing this optimal procedure not only by educating the public but also members of the hair restoration profession. All members of the Coalition have demonstrated mastery at performing the new Ultra Refined Follicular Unit Hair Transplantation with excellent results.
This free event was limited to a dozen attendees to maintain an intimate scale. Some of these physicians are recommended on the Hair Transplant Network and/or are members of the Coalition. All of them share a common interest in striving to provide truly cutting edge ultra refined surgical procedures to their patients.
Workshop Attendees:
Dr. Glenn Charles of Boca Raton – Host of the event
Dr. Bernie Nusbaum of Miami and an assistant
Dr. Raymond Konior of Chicago (Coalition Member) and his lead Tech Jola
Dr. Vito Quatela of Rochester, NY and two of his technical assistants
Dr. Alan Bauman of Boca Raton
Dr. Ricardo Mejia of Jupiter, Florida
Dr. Joseph Williams of Las Vegas (Coalition Member)
Dr. Mark Baxa of Charlotte and NYC
Dr. Tony Mollura of NYC
Dr. Jack Fisher of Nashville
Dr. Chris Gencheff of Madison, Wisconsin
John Vincent, with the National Hair Journal, also attended the event to report on it for both the Journal and their radio show.
The next Coalition Weekend Live Surgery Workshop will be hosted by Dr. Victor Hasson and Dr. Jerry Wong in Vancouver this coming August.
Technical issues that were discussed during the workshop include:
Remove a safe size donor strip, while keeping the transection of follicles to an absolute minimum by carefully removing a single elliptical donor strip.
Close and suture the donor area under minimal tension to minimize scarring of the donor area.
Create an overlapping ledge along the suture (Trichophytic closure) to make the donor scar virtually undetectable.
Use ultra tiny instruments that create minimally invasive incisions as small as 0.6 mm.
Create incisions that are orientated (laterally and or sagitally) to achieve perfectly angled and directed hair that grows in completely natural directions.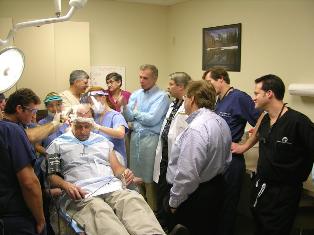 Following the surgery attendees also discussed practice management issues such as how to better find and educate patients both on and offline.
Attendees later attended a dinner in Boca Raton where the discussion and exchange of ideas could be continued.
View more photos of the Charles Medical Group Boca Raton workshop.
View highlights from the surgical workshop hosted by Dr. Jerry Cooley in Charlotte.
View highlights from the surgical workshop hosted by Dr. Ron Shapiro in Minneapolis.
Pat Hennessey,
Technorati Tags: hair restoration, Hair Transplant