Hi, I have been using Rogaine since August 2011 due to a receding hairline. I have been applying it to the temples and my frontal hairline with no positive results. In fact, it's actually destroyed my frontal hairline when I thought minoxidil was meant to prevent more hair loss. I know you might say it's not FDA approved for hairlines but this site certainly tells people to try using Rogaine on the hairline anyway, which is why I did it only to lose a lot more hair. What will happen if I stop using Rogaine completely and what will happen if I continue using it because last August, in the middle of my hairline, I had 100% thickness and now I can actually see my scalp.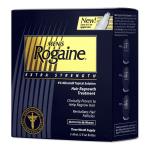 Using Rogaine (minoxidil) should not result in the permanent loss of healthy hairs. Starting a medical hair loss treatment typically results in an initial and temporary shedding of miniaturized, weak hairs which are eventually replaced with more robust hair growth. Some of these hairs may be lost permanently if they were very weak and about to die.
Androgenic alopecia (genetic balding) can happen slowly over a period of years or quite rapidly over a period of months. It is possible that your rapidly thinning hair coinciding with your application of Rogaine may simply be a coincidence. I recommend consulting with a dermatologist.
Stopping Rogaine will result in the eventual loss of any hairs grown by or retained by its use. In other words, you will experience catch-up hair loss. But again, your normal, bald-resistant hairs will not be affected.
—-
Technorati Tags: Rogaine, minoxidil, hair loss, hair loss treatment, hair growth, Androgenic alopecia, balding, thinning hair, bald