I turned 25 last December and I've been balding since I was 17. I've been following the standard hair loss treatment regimen of hair-stimulating medications for 11 months now – 2 applications of Rogaine (5% minoxidil) daily + Propecia (1mg finasteride) daily + Nizoral shampoo every few days.

Six weeks ago I broke out in a nasty rash on my neck and forehead, and developed severe dandruff. At first I thought I had had an allergic reaction to something so I stopped using certain cosmetics (e.g., toner, moisturizer.) Then I thought there might be something in the water in my new apartment. Three weeks ago I found myself back at my general practitioner's for the fourth time to finally be told that I had a fungal infection, which I have since been treating on various anti-fungal creams and shampoos.

This week I came to the conclusion that my reaction must be due to the minoxidil. I had previously thought that switching from Rogaine to Kirkland Minoxidil back in November 2011 may have been the reason – using a cheaper brand, etc. But after starting back on Rogaine last month, my infection has not altered.  I have made progress with my fungal infection since stopping minoxidil on Monday.

If I stop minoxidil, will I lose hair if I stop using minoxidil but carry on using finasteride and Nizoral?  Do you think I can go back to minoxidil after my fungal infection has completely gone?

I'm considering a hair transplant to fill in my receding hairline in early 2013, but I'm now worried that I'm going to lose some/most/all of the hair I have gained since I started using minoxidil, and that finasteride on its own won't be enough to retain the precious hair which I have now, especially on my crown, to make me an ideal transplant candidate.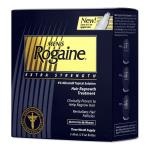 Fungal infections are not a documented side effect of minoxidil so it's impossible to say if restarting it after your infection has fully cleared up will result in a reappearance of the condition.
You will likely experience some shedding from discontinuing minoxidil but don't worry too much. Of the two drugs, Propecia is generally considered the most beneficial hair loss treatment. Propecia is a DHT inhibitor that works to slow the progression of hair loss and may regrow hair as well. Rogaine is a growth stimulator that works by increasing blood flow to balding areas of the scalp thereby helping miniaturized hairs to grow in fuller and darker.
Only time will tell what the full effect of stopping minoxidil may be but I have one other suggestion. Have you tried Rogaine Foam? Perhaps the reaction you are having is due to an ingredient in the liquid. There is even a new generic minoxidil foam available that is far more cost effective.
—-
Technorati Tags: balding, hair loss, Rogaine, minoxidil, Propecia, finasteride, Nizoral, hair transplant, hair loss treatment, regrow hair, Rogaine Foam, generic minoxidil foam