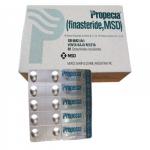 To date, Propecia, which contains the active ingredient finasteride is considered the most popular and effective drug in stopping and even reversing the effects of genetic balding in men. However, like other drugs, risks of potential side effects exist. The ones that concern men the most include the possibility of sexual side effects. These include decreased libido, difficulty in achieving and maintaining an erection, and a decrease in the amount of semen. But are these side effects permanent or will they disappear after stopping use of Propecia?
A recent study published in the Journal of Sexual Medicine suggesting long term or even permanent sexual side effects from Propecia has many men taking this hair loss drug worldwide very concerned. This study, while frightening, was not without its share of ambiguity. See "Does Propecia (Finasteride) Cause Permanent Sexual Problems" to read the details of this study.
Recently however, a group of researchers in Tokyo, Japan launched the largest Propecia-based research study since its FDA approval in 1997 on its effectiveness and the likelihood that men taking this hair loss treatment will experience sexual side effects at all, let alone permanent ones. To learn more and read the results of this study, visit "Japanese Study Finds Propecia (Finasteride) Safe and Effective for Treating Male Hair Loss".
To discuss your concerns about the possibility of experiencing permanent sexual side effects using Propecia, visit the discussion topic, "The Developing Truth About Finasteride".
To discuss the findings of the recent Japanese study on Propecia's efficacy and safety related to sexual side effects, visit the topic, "Concerned about Permanent Side Effects from Propecia? Read this Recent Study".
—-
David (TakingThePlunge) Forum Co-Moderator and Editorial Assistant for the Hair Restoration Forum and Social Network, the Coalition Hair Loss Learning Center, and the Hair Loss Q & A Blog.
Get Proven Hair Loss Treatments at the Best Prices by visiting our new Online Hair Loss Product Store
Technorati Tags: Propecia, finasteride, balding, hair loss, hair loss treatment