This question comes from a member of our hair loss social community and discussion forums:
After years of wearing my hair in tight braids, I noticed hair loss in my hairline and temple regions. I saw my physician, and he diagnosed the hair loss as traction alopecia. I'm wondering: what is traction alopecia, and can it be repaired with hair transplant surgery?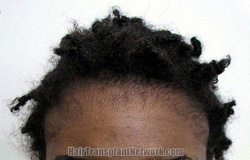 Traction alopecia is hair loss that is caused by excessive "pulling" of hair follicles over a long period of time. The constant pulling and traction on the hair follicles causes progressive damage and eventually leads to noticeable hair loss in regions where the pressure was most apparent (i.e. the hairline and temporal regions). Normally, traction alopecia is most apparent in individuals who wear their hair in very tight braids for a number of years, or those who wear hair pulled tightly in head wraps for cultural or religious purposes. For example, traction alopecia is very common in African American females who wear hair tightly braided for years, and Punjabi males who wear turban headwraps.
Medically, traction alopecia is classified as a "focal" (located in one region of the scalp, but not patterned like "androgenic alopecia" or "genetic patterned baldness") "non scarring" (meaning the hair loss is not occurring because of repeated inflammation and destruction of hair follicles) type of alopecia, and is treatable with hair transplant surgery.
In fact, individuals suffering from traction alopecia often seek surgical hair restoration from our recommended hair transplant surgeons, and the results are usually drastic and impressive. For example, here is a case of a female hair loss sufferer who had her traction alopecia reversed by Coalition hair transplant surgeon Dr. Jerry Cooley: Dr. Cooley – Female Traction Alopecia. 
__________
Blake – aka Future_HT_Doc
Editorial Assistant and Forum Co-Moderator for the Hair Transplant Network, the Hair Loss Learning
Center, the Hair Loss Q&A Blog, and the Hair Restoration Forum
Follow our community on Twitter
Watch hair transplant videos on YouTube
Technorati Tags: hair loss, traction alopecia, hair transplant, hair transplant surgery, hair restoration, hair transplant surgeons, female hair loss