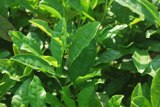 Although the topic of green tea as a hair loss remedy  is a popular subject, few discussions focus on the tea as a topical therapy. Because of this, many wonder if applying green tea to the scalp can help slow or reverse androgenetic alopecia or male pattern baldness. According to a study conducted at the Seoul University National Hospital, a key ingredient in green tea may have some validity as a topical hair loss treatment.
The study focuses on epigallocatechin-3-gallate (EGCG), a compound found in green tea, and its effect on dermal papilla cells and hair growth cycles. After removing and treating a section of follicular units from research subjects, the scientific team found that the EGCG stimulates hair growth by forcing hair follicles to remain in the expansion, or Anagen phase, and by increasing the active stage of dermal papilla cells (which are robust and lively during the follicular growth phase). However, despite the fact that these results seem promising, there are several issues to consider before concluding that topical green tea can help battle balding.
First, the study itself states that the method in which EGCG affects hair follicles and promotes growth is unclear and requires additional research. Although this is common in scientific studies, the research was published in the Journal of Phytotherapy and Phytopharmacology – a periodical dedicated to herbal therapies that is unlikely reviewed or frequently replicated by medical authorities. Additionally, there are issues such as green tea penetrating the scalp (since the portions used in the study were excised from the scalp and treated in dishes), secondary effects of green tea on hair, and whether or not the follicles are still susceptible to dihydrotestosterone (DHT) – the hormone that directly causes hair loss. Because of this, it is probably more effective to utilize proven treatments (such as minoxidil – Rogaine and finasteride – Propecia) until further research is conducted on green tea as a topical hair loss treatment.
_______________
Blake Bloxham – formerly "Future_HT_Doc"
Editorial Assistant and Forum Co-Moderator for the Hair Transplant Network, the Hair Loss Learning Center, the Hair Loss Q&A Blog, and the Hair Restoration Forum
Follow our community on Twitter
Watch hair transplant videos on YouTube
Technorati Tags: hair loss, androgenetic alopecia, male pattern baldness, epigallocatechin-3-gallate, EGCG, follicular unit, hair follicles, balding, dihydrotestosterone, DHT, minoxidil, Rogaine, finasteride, Propecia, topical hair loss treatment