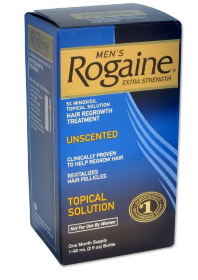 Along with finasteride (Propecia), minoxidil (Rogaine) is one of the only medications approved by the U.S. Food and Drug Administration for the treatment of genetic hair loss (androgenic alopecia). Although both drugs are proven alopecia treatments, many hair loss sufferers worry about the potential side effects; specifically, the reported sexual side effects associated with finasteride.
Most studies believe sexual side effects occur in approximately 0.3-3% of Propecia users, and agree that most dysfunction subsides after stopping the medication. However, unlike Propecia, the potential for sexual side effects with minoxidil usage has not been extensively studied. So, this leaves many individuals wondering: can Rogaine (minoxidil) cause sexual side effects?
To answer this important question, Coalition hair transplant surgeon Dr. Paul Rose researched the issue, and published an article about minoxidil and sexual side effects at our Hair Restoration Discussion Forums:
Dr Rose:
In the fall of 2012, researchers at Johns Hopkins University made a startling discovery: finasteride, known most commonly by the brand name Propecia, appeared to cause long term sexual side effects for a number of males who were using the prescription medication to treat hair loss.
Prior to the study, it was well-documented that finasteride could cause a number of sexual side effects during use. After the study, however, a small body of research indicated that males who take the popular hair loss medication could suffer with sexual side effects long after use was discontinued. The study analyzed only a small number of patients, and many hair loss professionals believe rigorous follow-up studies are needed to better understand the long term side effects of finasteride. Nevertheless, the study sparked concern among men and women who suffer with hair loss, particularly those who currently use a non-surgical method of restoration.
Most recently, patients have begun to wonder if minoxidil may cause sexual side effects. A topical solution, minoxidil is most commonly known by the brand name Rogaine. However, there is no data to support such concerns. While there are a number of cases of men reporting sexual dysfunction from Rogaine (minoxidil), there has been no scientific data gathered to support this as a side effect and it is not listed by the manufacturer as a known side effect.
Rogaine is a brand name version of minoxidil, an anti-hypertensive drug that is used to treat pattern baldness (androgenetic alopecia). With daily topical application, minoxidil has demonstrated effectiveness in converting short, fine hairs into fully developed "regular" hair. Though it is unclear exactly how minoxidil achieves this feat, the drug demonstrates a general ability to increase the "growth phase" of hair, normalizing the hair follicle while promoting wholesome growth. Unlike Propecia, Rogaine can be used by both men and women who suffer with pattern baldness.
Shortcomings of Rogaine
Hair loss is a gradual process for those who suffer with pattern baldness. For these individuals, hair becomes thinner and finer each time it progresses through its natural growth phase– a cycle that dermatologists estimate happens about 10-20 times over a person's lifetime. Eventually, hair may cease to grow. Because Rogaine may effectively "normalize" the growth process, individuals may slow the progression of pattern baldness and, in many cases, stop it entirely.
For a small percentage of patients, Rogaine may help to grow new hair. Most people who use Rogaine, however, will not be able to achieve this goal. In fact, Rogaine is known best for preventing additional hair loss while nurturing thinning hair.
Based on these findings, the following is clear: as of now, researchers have not found a clear correlation between minoxidil use and sexual side effects; but, studies (specifically those supported by the US FDA) have found minoxidil effective in preventing and stabilizing progressive hair loss. However, because some hair loss sufferers have reported alleged sexual side effects while taking minoxidil, it is something to thoroughly discuss with a trusted physician before starting the medication.
_____________
Blake – aka Future_HT_Doc
Editorial Assistant and Forum Co-Moderator for the Hair Transplant Network, the Hair Loss Learning
Center, the Hair Loss Q&A Blog, and the Hair Restoration Forum
Follow our community on Twitter
Watch hair transplant videos on YouTube
Technorati Tags: finasteride, Propecia, minoxidil, Rogaine, genetic hair loss, androgenic alopecia, sexual side effects, hair transplant, Hair Restoration