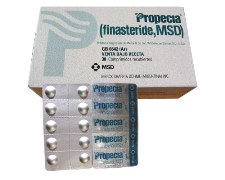 Propecia (finasteride) is one of only two medications proven safe and effective for the treatment of male hair loss by the U.S. Food and Drug Administration. However, despite the FDA approval and several significant studies touting the drug's safety, many individuals now believe Propecia is associated with some very serious side effects.
Although most are concerned with the potential sexual side effects associated with finasteride usage, one group recently looked at another serious problem: depression.
In an article recently published in the Journal of Clinical Psychiatry, a team of researchers looked at the connection between Propecia usage and depression. The researchers interviewed a sample of 90 hair loss sufferers: 61 balding men who used Propecia (for at least 3 months) and experienced sexual side effects from the drug, and 29 balding men who never took the medication.
The researchers asked the men about their demographic information (race, age, etc), past medical and psychiatric history, current medication regimen, sexual habits, and alcohol consumption.
The results demonstrated the following:
-11 % of male finasteride users (who also experienced sexual side effects) possessed mild depressive symptoms
-28% of finasteride/Propecia users (with sexual side effects) possessed moderate depression symptoms
-36% of Propecia users (with sexual side effects) possessed severe symptoms
-44% from this same group had suicidal thoughts 
-Finally, only 10% of the "control" group (the 29 individuals who suffered from hair loss but never took Propecia) showed mild depressive symptoms and 3% had suicidal thoughts
Based on these results, the researchers stated that these findings warrant the need for future study.
However, it is worth mentioning that this future study should utilize better "randomization" processes and not only analyze Propecia users with reported sexual side effects. By only looking at this group of individuals, it's uncertain whether Propecia and the sexual dysfunction is related to the depression, or whether the sexual dysfunction, in and of itself, is causing the depression.
___________
Blake Bloxham – formerly "Future_HT_Doc"
Editorial Assistant and Forum Co-Moderator for the Hair Transplant Network, the Hair Loss Learning Center, the Hair Loss Q&A Blog, and the Hair Restoration Forum
Follow our community on Twitter
Watch hair transplant videos on YouTube
Technorati Tags: Propecia, finasteride, hair loss