This question comes from a member of our hair loss social community and discussion forums: 
I'm undergoing a hair transplant procedure soon, and I'd like to get back to work as soon as possible. Because of this, I'm wondering how soon after the surgery I can mask the maturing results with topical concealer?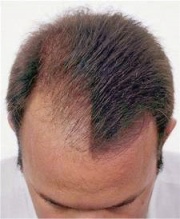 Topical concealers, both masking scalp lotions like Couvre and DermMatch, and fiber "shakers" like Toppik and Nanogen Nanofibres, help numerous hair loss sufferers thicken the appearance of thinning hair and camouflage areas of bald scalp. For patients recovering from hair transplant surgery, topical concealers may allow for less "down time" and a quicker return to everyday life.
While concealers are helpful, patients should note that they generally cannot be use immediately after hair transplantation. During a hair transplant procedure, follicular unit grafts (FUG) are extracted from the universal donor region in the back of the scalp and implanted into balding areas. For approximately 7 to 10 days after implantation, the immature grafts are not yet "anchored" and can be dislodged if touched or moved inappropriately. Because the application of topical concealers involves movement of the scalp and hair, many hair restoration experts believe using it during the first 7 to 10 days after a hair transplant procedure may dislodge or damage the vulnerable grafts. After the new follicular units anchor (after approximately 10 days), concealers can be safely used without damaging the hair transplant results. At this point, patients can use concealers to camouflage the growing results and get back to regular activity as soon as possible!
___________
Blake Bloxham – formerly "Future_HT_Doc"
Editorial Assistant and Forum Co-Moderator for the Hair Transplant Network, the Hair Loss Learning
Center, the Hair Loss Q&A Blog, and the Hair Restoration Forum
Follow our community on Twitter
Watch hair transplant videos on YouTube
Technorati Tags: hair loss, hair transplant, topical concealer, Couvre, DermMatch, Toppik, Nanogen Nanofibres, hair transplantation