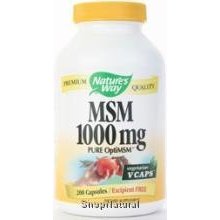 MSM (Methylsulfonylmethane) is a popular supplement that supposedly aids in a variety of health functions. Among these alleged health benefits, MSM is proposed to promote hair growth and increase the vitality of one's natural hair.   In many cases, hair transplant patients with a shaved recipient area (where the new hair grafts have been placed) often use MSM for the first couple of months after surgery to accelerate the growth of their shaved natural hair.   Note that MSM does nothing to expedite the hair transplant growth/maturation process nor does it do anything to stop the progression of genetic baldness.   Yet, the use of MSM still remains popular.  Read our  MSM product review for more information.
However, many patients who use this supplement for hair loss report an unwanted side effect – acne breakouts. So, can MSM cause acne? According to wellness experts, MSM aids in optimal health by causing cells and tissues to detoxify and flush unwanted biochemical agents.  Popular consensus claims the release of these toxins causes a short period of acne, meaning that MSM can cause an initial acne breakout. These breakouts are allegedly short-lived and avoided by starting treatment with a low dose of MSM and moving gradually toward a higher concentration.
Because MSM alleged primary benefit is to speed up and increase the vitality of one's natural hair, therapies such as minoxidil (Rogaine) and finasteride (Propecia) should be used to treat male pattern balding instead of MSM. However, individuals who choose to use MSM can allegedly experience initial periods of increased acne.  Have you experienced an acne breakout while taking MSM as a hair growth therapy? If so, feel free to contribute to the thread on our Hair Restoration Discussion Forums – MSM and Breakouts?
_______________
Blake Bloxham – formerly "Future_HT_Doc"
Editorial Assistant and Forum Co-Moderator for the Hair Transplant Network, the Hair Loss Learning Center, the Hair Loss Q&A Blog, and the Hair Restoration Forum
Follow our community on Twitter
Watch hair transplant videos on YouTube
Technorati Tags: MSM, Methylsulfonylmethane, hair growth, hair transplant, hair loss, minoxidil, Rogaine, finasteride, Propecia, male pattern balding, hair growth, Hair Restoration