I had my hair transplant done in May 2012 and after surgery, when they asked me to take a shower, I did. Even though I did not touch my scalp, loads of hair fell out from the grafts so I stopped taking head showers for the following two weeks and then the blood and the Betadine solution got very rock-like on my scalp. When trying to clean my scalp after 13 days post-op, nearly all the transplanted hairs came out along with the scabs.

Can anyone please advise if I damaged the follicles? Now my hair is growing but still very scarcely. They transplanted a load of hair in the frontal area but it is not thick. I discontinued using Rogaine (minoxidil) after 6 months and just started using it again a week ago. Do you guys think I will still have hair growth?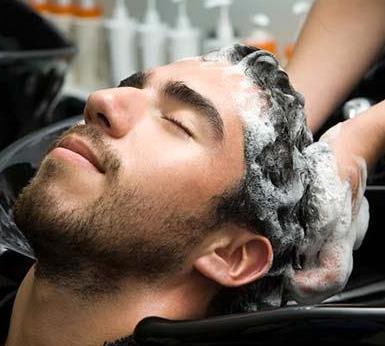 There are some specifics missing from your question. However, it's customary to wait until the morning after the procedure for the first hair wash. Some clinics will perform this service for the patient but it can also be done safely in the home.
While it's best to follow your hair restoration surgeon's specific aftercare regimen, in general, you should avoid applying direct water pressure to the hair transplant recipient area for at least the first 4 days. Instead, you should mix warm water and shampoo in a cup and gently pour it over the grafts several times. During this time, you should also take care to gently but thoroughly clean the area around the donor scar.
By day 5, it is normally safe to allow direct spray from the shower head to contact your head. At this time you can very gently touch the recipient area with your fingertips and the lathered water but you should avoid any massaging action.
Many hair transplant surgeons advise massaging off the scabs in the shower beginning around day 7 using a gentle, circular motion with the fingertips. It is important not to pick them off. Avoid using fingernails to remove scabs.
It sounds to me as if you may have applied full water pressure to your head immediately after surgery, which may have dislodged some grafts. But, since you have not mentioned any bleeding occurring, this may not be the case. It is quite normal and expected for hair follicles to fall out of the newly transplanted grafts. This does not reflect permanent hair loss and they will soon be replaced with new hair growth.
Of most concern to me (if I'm interpreting it correctly) is that you seem to have quit washing your head completely for the next two weeks. It is important to clean all the blood from around the donor area and to keep it clean. Additionally, the recipient area must be kept clean and free of scabs in order to ensure maximum graft survival and reduce the likelihood of infection.
Given that I don't know the degree of hair loss you started with, the number of grafts you had transplanted and I don't have the pre and post-operative photos for comparison, I cannot assess your results. But, since you are already one year post-op, I would not expect you to see any significant increase in density. I recommend that you contact your surgeon and discuss your concerns. Your doctor is best suited to evaluating the outcome of your procedure and can advise you on how to proceed. If you do not agree with his assessment or simply want a second opinion, you can always consult with one of the pre-screened, quality hair restoration surgeons we recommend.
—-
David (TakingThePlunge)
Editorial Assistant and Forum Co-Moderator for the Hair Transplant Network, the Coalition Hair Loss Learning Center, and the Hair Loss Q & A Blog.
To share ideas with other hair loss sufferers visit the hair loss forum and social community
Technorati Tags: Rogaine, minoxidil, hair restoration, hair transplant, hair loss, hair growth