I am a 30yr old female and have a question to ask. I am using Pantogar pills for hair loss. Can I use minoxidil at the same time?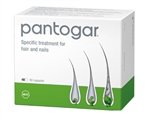 I was unfamiliar with Pantogar Tablets prior to your question. However, a quick Internet search revealed that there is no scientific reason to believe that Pantogar's ingredients should do anything to stop diffuse hair loss as they claim.

Ingredients: Cystine, Thiamine, Calcium pantothenate (vitamin B5), Medicinal yeast, Keratin, Para-aminobenzoic acid.
However, if you wish to continue taking Pantogar, there is no reason why you cannot use a minoxidil product such as Rogaine at the same time. Minoxidil is the only clinically proven and FDA approved treatment for female hair loss.
—-
David (TakingThePlunge)
Editorial Assistant and Forum Co-Moderator for the Hair Transplant Network, the Coalition Hair Loss Learning Center, and the Hair Loss Q & A Blog.
To share ideas with other hair loss sufferers visit the hair loss forum and social community
Technorati Tags: hair loss, Pantogar, Rogaine, Minoxidil, female hair loss