This question comes from a member of our hair loss social community and discussion forums:
I'm finally ready to do something about my hair loss. I want to start minoxidil (Rogaine) and finasteride (Propecia); however, I'm not sure if I can start these at the same time. Is it advisable to start Rogaine and Propecia at the same time?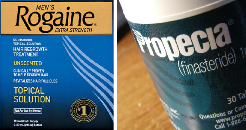 Rogaine and Propecia, according to many hair loss experts, have a "synergistic" effect when taken together. In other words: minoxidil and finasteride enhance the effects of one another; taking these drugs together may halt hair loss and regrow hair more effectively. Those starting these drugs together, however, must consider two important issues:
First, both minoxidil and finasteride are associated with an initial shedding phase. During this phase, patients may experience a drastic loss of scalp hair. This period is temporary, usually lasing 3-4 months total, and results in growth of newer, stronger hair. Both of these drugs, however, are affiliated with this shedding phase; this means taking the drugs together, or starting them at the same time, may result in a more drastic or significant shed. The shed is not likely to last longer (than the normal 3-4 months), but it may be more severe.
The second issue those considering dual minoxidil and finasteride therapy must consider is the serious nature of the medications. Both Rogaine and Propecia are legitimate drugs, and should be thoroughly reviewed and discussed with a physician before use. Propecia, in fact, is only available with a prescription from a doctor. Knowing this, it is important for those considering dual therapy to consult with a trusted hair loss expert. Trained physicians, with hair loss knowledge, possess the capability to evaluate patients and determine whether these medications are appropriate and what effects they may cause. This is why those considering minoxidil and finasteride should consult with a trusted physician before using either treatment.
Minoxidil and finasteride can be taken together; in fact, many hair restoration physicians recommend it. Those starting the drugs together, however, should be aware of the potential shedding period and the importance of reviewing the drugs with a trusted physician beforehand.
___________
Blake Bloxham – formerly "Future_HT_Doc"
Editorial Assistant and Forum Co-Moderator for the Hair Transplant Network, the Hair Loss Learning
Center, the Hair Loss Q&A Blog, and the Hair Restoration Forum
Follow our community on Twitter
Watch hair transplant videos on YouTube
Technorati Tags: hair loss, minoxidil, Rogaine, finasteride, Propecia, hair restoration