I have had recession and thinning hair for years. Am on 1.5mg daily of Finasteride and have been for 15 years. It has helped but lately (last three years), I feel like the battle is being lost. Therefore, I think "hair transplant".

My decision to do a transplant is still worrisome because I fear having it done, all the hair behind my transplanted space falling out, and having the need to ultimately shave my head and lo and behold I have this massive scar there for people to look at (especially in church!). How do people who have had a transplant rationalize this last step before they take the plunge and if you do go fut should you expect that you will never be able to shave your head without someone completely noticing what has been done?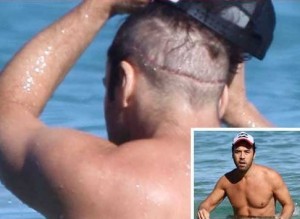 I'm sorry to hear that finasteride is no longer as effective for you as it once was. Medical hair loss treatments like Propecia (finasteride) and Rogaine (minoxidil) can help prolong the inevitable but, as we all know, there is no hair loss cure.
You haven't stated your age and, of course, that will play a role in evaluating your candidacy for hair transplant surgery. However, given that you've been on finasteride for many years and have recently begun to see increased hair loss, you have a valid concern. Depending upon your age, current degree of hair loss, eventual Norwood Scale class and individual hair restoration goals, it may be possible to find a balance that will look natural over your lifetime and that you'll be happy with aesthetically. Photos would help provide you with more realistic advice.
To answer you question, anyone planning to undergo strip surgery must come to terms with the fact that they will never again be able to shave their head bald without exposing the scar. Just how short you may be able to cut your hair after follicular unit strip surgery (FUSS) depends upon a number of factors like healing, skin color, physician skill, etc. In order to find out, you just have to do it. There is really no accurate predictor. Some guys can get away with a #2 clip. Other guys need a #3 or #4 to hide the scar.
It's important to note that even follicular unit extraction (FUE) patients are not guaranteed the option to shave their heads in the future with no visible signs of scarring. There is simply no such thing as scarless surgery. But, the potential is certainly there in contrast to strip.
Back to the topic of hair growth drugs, have you considered talking to your doctor about Avodart (dutasteride)? It may be more difficult to get a prescription for it since it's not FDA approved for the treatment of androgenic alopecia but, while Propecia only inhibits the Type II isoform of 5-alpha reductase, Avodart blocks both Type I and Type II, potentially making it a more effective treatment for male pattern baldness. Some guys have been known to make the switch when finasteride is no longer doing the job.
—-
David
Editorial Assistant and Forum Co-Moderator for the Hair Transplant Network, the Coalition Hair Loss Learning Center, and the Hair Loss Q & A Blog.
To share ideas with other hair loss sufferers visit the hair loss forum and social community.
Technorati Tags: thinning hair, Finasteride, hair transplant, hair loss treatments, Propecia, Rogaine, minoxidil, hair loss cure, hair loss, Norwood Scale, hair restoration, bald, follicular unit strip surgery, FUSS, follicular unit extraction, FUE, hair growth, dutasteride, androgenic alopecia, male pattern baldness