This question comes from a member of our hair loss social community and discussion forums:
I suffer from a "Norwood VI" hair loss pattern (which is nearly the highest level of baldness on the Hamilton-Norwood scale), and I'm wondering if I am a candidate for hair transplant surgery via Follicular Unit Extraction (FUE)? Can FUE be used to restore an advanced balding pattern?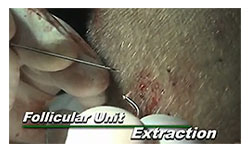 In the past, Follicular Unit Extraction was a niche procedure only used for small sessions in low Norwood level patients. Compared to Follicular Unit Strip Surgery (FUSS), FUE boasted a lower growth yield (around 70% compared to FUSS' 95%) and could not efficiently restore advanced balding patterns.
However, the minimally invasive nature, decreased post-operative "down time," and reduced scarring associated with FUE created serious demand for the procedure and it continued to grow in popularity. As the popularity increased, hair restoration physicians began refining FUE techniques, increasing final yield, and achieving larger session sizes.
Today, FUE is a highly effective procedure that is suited for a large variety of hair loss sufferers. While most practicing hair restoration physicians integrated FUE into practice and offer it alongside FUSS, other doctors specialize specifically in FUE and offer the procedure exclusively. These physicians – many of whom are recommended by the Hair Transplant Network – perform FUE on a daily basis, and now possess the ability to effectively restore advanced balding patterns (Norwood level V and VI).
While FUSS still plays a very important role in large hair transplant sessions performed in high Norwood individuals, FUE has "come a long way" and creates dramatic transformations in the right hands. It is important to note that not all patients are good candidates for large FUE sessions – which can require multiple day procedures and several sessions – and only a select number of hair transplant surgeons are trained and experienced enough to restore advanced balding patients with FUE. However, with proper research and today's modern FUE, it can be achieved!
___________
Blake – aka Future_HT_Doc
Editorial Assistant and Forum Co-Moderator for the Hair Transplant Network, the Hair Loss Learning
Center, the Hair Loss Q&A Blog, and the Hair Restoration Forum
Follow our community on Twitter
Watch hair transplant videos on YouTube
Technorati Tags: hair loss, Norwood VI, hair transplant surgery, Follicular Unit Extraction, FUE, Follicular Unit Strip Surgery, FUSS, hair restoration, Hair Transplant Network, hair transplant surgeons