This question comes from a member of our Hair Loss Social Community and Discussion Forums: 
I recently began a Propecia (finasteride) regimen for my ongoing hair loss, and, despite maintaining a regular diet, noticed an accompanying weight gain. I'm wondering, are these issues related? Can taking Propecia (finasteride) for hair loss cause weight gain?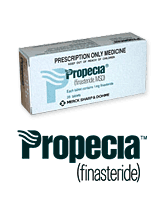 I recently re-checked the official report from Merck Pharmaceuticals (the company that manufactures Propecia) and did not see "weight gain" listed as an observed side effect.
They did mention the potential for breast swelling/enlargement in males, possible urticaria (a type of swelling, allergic reaction), and facial/lip swelling, but nothing about weight gain. Additionally, keep in mind that these possible side effects only occur in a very small number of Propecia patients (less than 2%).
It does seem like weight gain can occur for a variety of reasons, and discussing these issues with a personal physician is probably the best option at this juncture.
_______________
Blake Bloxham – formerly "Future_HT_Doc"
Editorial Assistant and Forum Co-Moderator for the Hair Transplant Network, the Hair Loss Learning Center, the Hair Loss Q&A Blog, and the Hair Restoration Forum
Follow our community on Twitter
Watch hair transplant videos on YouTube
Get Proven Hair Loss Treatments at the Best Prices by visiting our new Online Hair Loss Product Store
Technorati Tags: Hair Loss, Propecia, finasteride